• Enjoy what is yours'
• Remove the Clutter

• Design & Organization
• Dissolve the Clutter thru REsolving to have REsolutions REdesign your office, your bedroom, your fun room.
reSOLUTIONS can help you de-clutter anything from your home to your home office to your calendar to your mindset. We can come to your home or office and help you start on the road to being organized, simplified and connected to what matters most. You CAN go from chaos to organizational bliss!
Most of us run out of space from our collections and we reason that we have to move. Keep that thought in mind. When we decide to move, we first have to get our house to look better so we can sell it to another person. If we have a shyness about our personal space, not wanting to share it with the public, it becomes frustrating to think what we have to go thru to get this house on the market. We don't know where to begin.
After the house is organized and hopefully, has an improved floor plan, we bring in the realtor and list it. After it is shown, negotiated and sold, we think that we are home free!
What happens is this =
Whether the move is to a larger or a smaller space, we still have a problem at hand. Our needs as well as our new space have to be evaluated. This is where ReSolutions comes in...
Sanka of reSOLUTIONS is a natural at defining the best for you. EACH PLAN IS ABOUT YOU, YOUR TASTE, YOUR HABITS, YOUR FEELINGS. You will see, after the reSOLUTIONS treatment, how your life flows throughout the day. Your environment is a silent thing that greatly inflluences your feelings, your temperment. When your environment improves, you just might surprise yourself and naturally organize and de-clutter your life.


NAPO's President, Barry Izsak and Sanka Coyle discuss industry enhancements and a new product line.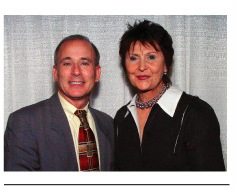 Staging Your Home for a
Quick Sale.
You can stage your house using furniture, artwork, sounds, smells and objects to engage the emotions of prospective buyers. The theory is that sellers will pay more if they imagine themselves in the house, enjoying delicious food, entertaining delightful friends, and snuggling up with upscale magazines on lazy weekend mornings. BUT THAT IS NOT ENOUGH. REsolutions recommends a good floor plan that is inviting and compelling. When the main room speaks to you in a tone of gracious, inviting comfort, you will just want to sit down and stay. To do that?.... buy it!




Member of the National Association of
Professional Organizers